Music...Dance...Theater...Art!
2013 Season Line-up is Right Here!!
Performances
Events
Gallery Exhibitions
Workshops
Click on the Brochure cover to
download the 2013 Season Brochure!
Here's a teaser....every heard of the Lake Street Dive?
Garrison Keeler has...

More teasers...
Iris Dement
Mary Gauthier
Loudon Wainwright III
Announcing Auditions for
Opening Acts: Young Artists Showcase 2013
at 2:00 PM, Sunday, May 19
in The West Kortright Centre's auditorium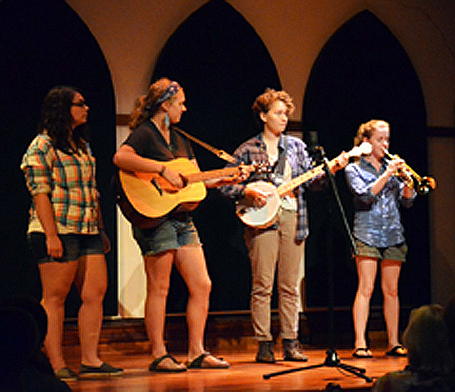 Flannel Beard & the Accordions opening for Billy 'n' Jilian Nershi in 2012
Now in its 22nd year, youngsters and young adults
(ages 10-21) from Delaware, Otsego, Chenango, and
Schoharie counties are invited to audition for the opportunity
to perform for five minutes prior to scheduled WKC
performances by professional musicians.
Download the Registration form here!

The West Kortright Centre is a
thriving arts & community
center in a bucolic farm valley
that has been celebrating the
arts and life in the northern
Catskills since 1975.
• Outstanding Performances
• Shakespeare in the Valley
• Compelling Workshops
• Cutting Edge Movie Screenings
• Stellar Gallery Exhibits
• Annual Gala Dance
• Landscape & Garden Tour
• Glorious Wedding Spot
Our Current Season
2013 Season Sponsor
click on logo to visit website
2013 Season
Print Sponsor


click on logo to visit website
And here's a big thanks
to all our 2013 Sponsors!

If you are a business
and you want to join our team
Download the
2013 Sponsor Packet
Follow us on